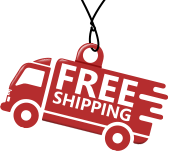 Free Shipping
When Obesity Becomes Disability: Coping Strategies for Improved Quality of Life
Obesity is an insidious disease that comes about through lifestyle behaviors, many of which are learned in early childhood. Over time, excess body weight accumulates to the point where it begins to cause metabolic and mechanical issues, beginning a downward spiral of poor health, limited mobility and reduced quality of life.
Many of the activities of daily living (ADL) that normal-weight people take for granted, like bathing, climbing stairs, or even walking, are often beyond the reach of the morbidly obese, especially as they grow older. To make matters worse, obesity poses significant challenges to caregivers who must bathe, move and assist obese patients.
Bariatric Supplies to Meet Obesity Needs
The marked increase in obesity over the last several decades has prompted manufacturers of medical aids to design products specifically to meet the needs of morbidly obese patients and their caregivers. Designated as "bariatric" these products are wider and sturdier than standard equipment, and most are constructed to hold patients weighing up to 500 pounds.
Some useful bariatric products include:
Bariatric Products at CertHealth
If you have obese patients or loved ones who struggle to perform routine daily activities, you can make their life and yours safer and more convenient with bariatric products from CertHealth. Our convenient and easy-to-navigate online catalog makes shopping and ordering a breeze, with products conveniently delivered right to your door. Don't wait for a fall or mishap before procuring bariatric care products. Shop our site today, and help improve the quality of life of your obese patient.

Fast Delivery
Same day delivery as soon as possible

Special Discount
Get attractive offers day by day

Secure Checkout
Fully secured SSL checkout technology

Money Returns
100% Money back guarntee