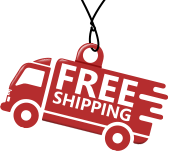 Free Shipping
Why Your Patient or Loved One Needs a Shower Chair
Declining health that leads to disability can be challenging and stressful, not just for the patient, but for family members and caregivers as well. Safety becomes a primary concern as a patient's mobility decreases, especially while using the toilet and bathing where slippery surfaces increase the risk of falls. In fact, according to the National Council on Aging, falls are the leading cause of fatal and non-fatal injuries for older adults.
How a Shower Chair Helps Prevent Injury
Using a chair inside your shower or tub can greatly reduce the risk of falls, enabling a patient with poor balance or limited mobility to enjoy a refreshing bath or shower without fear of injury. A shower chair also reduces the risk of injury to caregivers who have to lift and move patients during bathing, placing stress on the low back.
Patients who can benefit from a shower chair include:
Patients with reduced mobility

Patients with poor balance

Post-operative patients

Patients who need help bathing
Adding a chair to your bath or shower can greatly improve the quality of a patient's life while reducing their risk of falls and injury.
Selecting the Best Shower Chair for Your Needs
Shower chairs come in different sizes, with several options, so it's a good idea to do your homework before purchasing a shower chair. Some things to consider before choosing a chair include:
Dimensions:

Measure the area where the chair will be used to be sure it will fit, and still leave enough room for the patient and caregiver to move about and bathe. Also, make sure the chair is deep enough and wide enough to accommodate your patient, especially if they are obese.
Weight Capacity:

If your patient is overweight or obese, make sure the chair you have in mind is sturdy enough to support their body weight. Patients weighing over 300 pounds may require a special bariatric shower chair.
Back and Armrests:

Shower chairs come with or without a back and armrests. While they can provide extra support and stability for the patient, a back and armrests can make bathing the patient more challenging, and can make it harder to transfer from shower to wheelchair or walker.

Adjustability:

Being able to adjust the height of the chair can make it easier to transfer the patient and provide maximum comfort for both patient and caregiver while bathing.
The most important considerations when purchasing a shower chair are dependability, durability and functionality. The chair should be water- and rust-proof, and easy to clean and maintain.

Shower Chairs at CertHealth
Making your bathroom safe and efficient for your disabled patient reduces the risk of injuries and makes the bathing experience less stressful and more enjoyable for both patients and caregivers. At CertHealth, we offer a variety of bathroom products for hygiene and safety. Shop and compare before you buy, and enjoy the convenience of hassle-free shopping and quick delivery, directly to your doorstep.

Fast Delivery
Same day delivery as soon as possible

Special Discount
Get attractive offers day by day

Secure Checkout
Fully secured SSL checkout technology

Money Returns
100% Money back guarntee